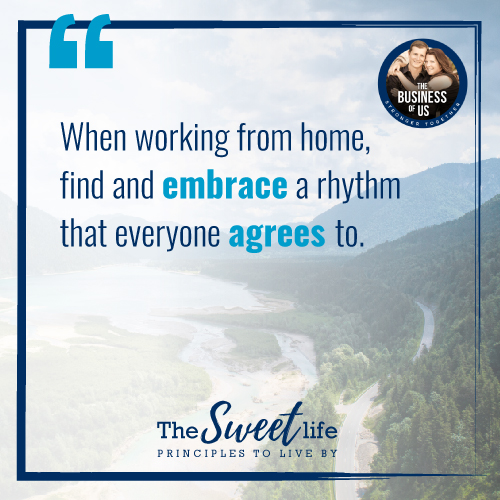 My wife and I work about 10 feet away from each other. Amanda's office/workspace tends to be the kitchen counter. She doesn't need much space, just a laptop, phone, and a notebook.
I work at a desk with not far away, and we spend the majority of our day in these two spots. We've worked in close proximity to each other off and on for the last 20 years.
Many of our friend's shutter at the thought of working next to their spouse day after day after day.
We've never had a problem with it. We are both hard workers, so we just do what we do, and we respect each other's time and work, so if we have a phone call or need to record a video, we go out of the room, so noise doesn't distract or annoy the other one.
It's easy, comfortable, and convenient.
I can be at work within 3 mins of waking.
Having kids at home is a different story. Amanda handles this better than I do. Mostly because she is more realistic about her expectations of what she can complete each day while the kids are there.
She will tell them when she will be available to play or help them with something, and she follows through with it.
I often struggle with placing too high of expectations on our kids to entertain, educate, feed themselves, and get along while I'm working.
We don't let the kids be on screens all day (which would make things easier), but that choice typically means more interaction with them, and therefore readjusting my work schedule.
I am enjoying the extra time with our daughters. But I am getting up a bit earlier to accomplish few more things on my list.
The key to working from home is to find a rhythm that works for you and those around you.
We've been fortunate to have traveled quite extensively as a family, and during those trips, Amanda and I still work. So with every hotel, apartment, or home we stay at, it requires us to figure out a rhythm for us to co-exist.
It's less about work/life balance, but rather, work/life integration or harmony. We are in too close proximity to expect to not be impacted by each other's presence, so instead, we figure out how to function together.
It will take practice and constant readjusting but talking with all family members about scheduled work times, free times, meals, things you need help with, things they want to do, etc., will make a huge difference. Just remember to adopt reasonable expectations for everyone, this helps to minimize frustration.
Working from home can be a blessing for you and your family, you just need to find and embrace a rhythm.