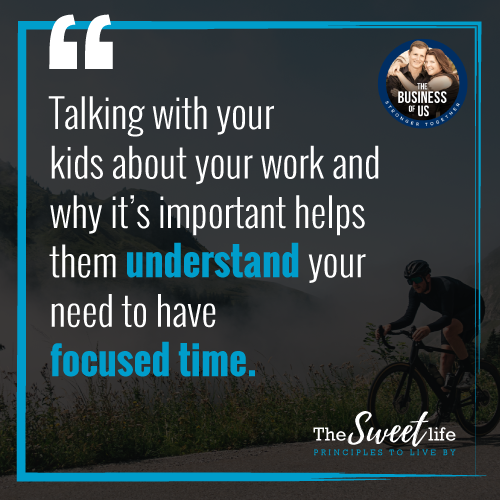 This is a concept my wife and I have been working for many years, although we didn't really know what to call it.
Work/Life Balance is something we tried and often failed at because we are both so driven and hardworking that as a married couple with kids, it can easily turn into a fight for time.
We've seen many marriages disintegrate after they had kids because the fight for time can eventually turn into resentment, which is a very toxic ingredient for any marriage.
Work/Life integration or harmony is about finding ways to include your important life stuff with your important work stuff.
For instance, we leveraged Amanda's writing career to include books about traveling the world with our kids, which gave us an excuse and purpose to travel overseas with our family every year. We also launched a charitable giving organization, and from the start, we wanted my kids to help us run the events for them, so they could be a part of it.
On a smaller scale, finding time to exercise and spend time with the family can tricky when you have a lot to work to do, so we've tried many ways of exercising with our kids. Yesterday we all (tried) to play tennis at a park around the corner, and the day before, we walked to the ballfield and practiced softball together.
We are far from figuring out all the riddles to Work/Life Integration, but now that kids are out of school and Amanda and I are both working from home, we are getting a lot of practice.
Talking with your kids about you're work and why it's important helps them understand your need to have focused time on your work.
Same goes with your spouse, if you are both communicating about what is stressing you out and discuss ways to help each other, then there is going to be a lot less frustration and flare-ups at home.
If you are finding yourself struggling to find balance, you might find some success if you look for more ways you can integrate versus trying to balance it all.
Happy Integrating!