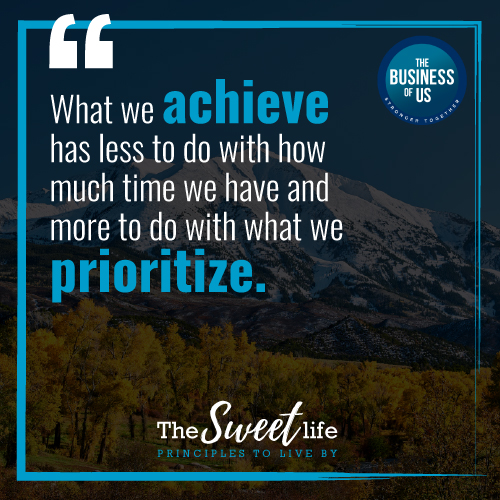 Be Selfish with Your Time
​One of the most common excuses I hear from people about why they haven't achieved something is that there's not enough time.
But really, time moves at the same pace for all of us. No one gets more hours in a day than anyone else. It can't be bought or bartered.
What we achieve (or don't) has less to do with how much time we have and more to do with what we prioritize.
Prioritizing isn't nearly as hard as people make it out to be. Here's my free 2-step guide on how to prioritize:
What is most important to you?
Do that first.
I realize that we are constantly bombarded with distractions. A million shiny objects vying for our attention. If they threaten the best use of your time, you have to try to limit your exposure to them.
Sometimes it's not the shiny object, but the emotional pull associated with how we spend our time. If you share your home with a partner and/or kids, you know this well.
Time spent comes with guilt.
Your mind is flooded with all the other things you could be doing. And maybe you convince yourself you should be doing them.
Being selfish with your time is hard, but necessary. Claiming your time is often harder than whatever you set out to accomplish with that time.
But you have to do it. There are no gains without effort. The book won't write itself.
I'm not writing this from an expert perspective. Claiming my time is something I struggle with daily.
I have wins and losses. Days when my time is spent exactly as I hope, and others when I kick myself for giving time to people or entities that don't deserve it. But I know in either case that there's no such thing as "not enough time." It all comes down to how I use it.