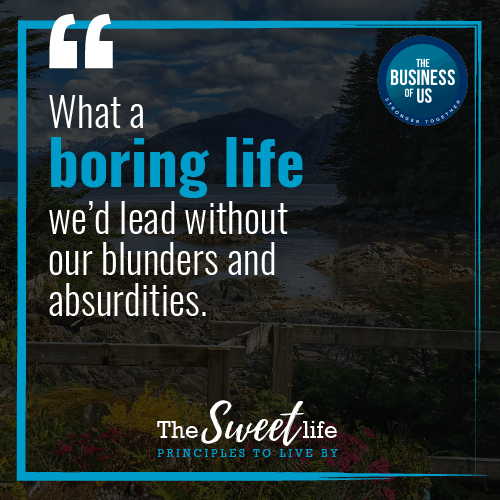 Life is boring without our blunders and absurdities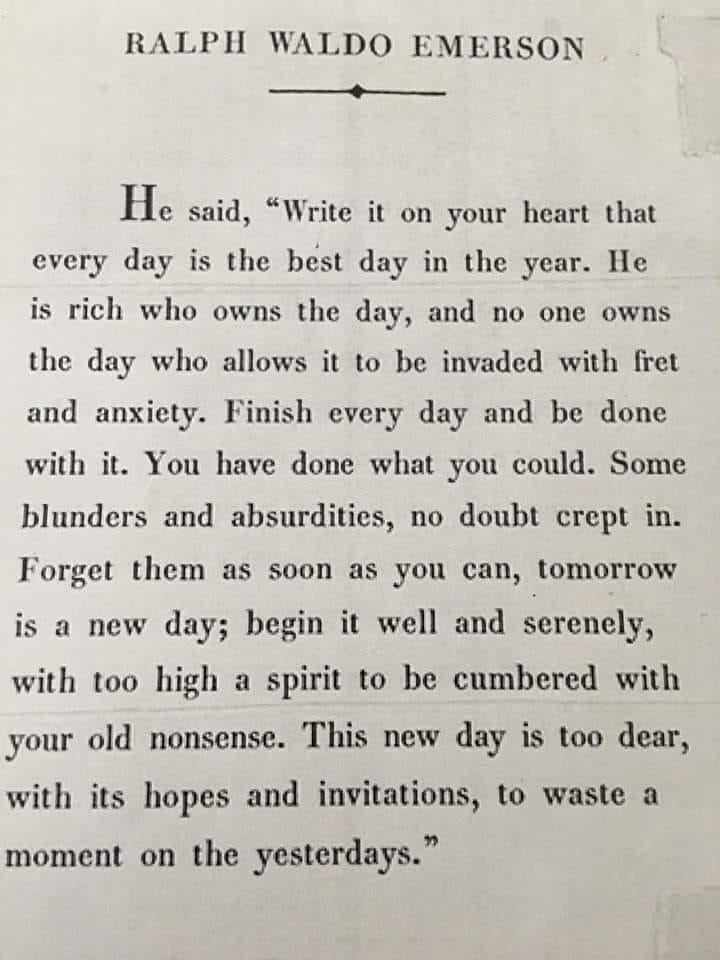 Someone very dear to me sent me this picture, with the simple caption, "This is lovely." I agree. I don't know why she sent this to me at the time that she did, but it fell in my inbox as if meant to be. Kismet. (And I don't even believe in fate.)
"No one owns the day who allows it to be invaded with fret and anxiety."
If I'm burdened with anxiety, I'm unable to own my day, to realize its potential.
"Finish every day and be done with it."
Yes! It's simple but profound and maybe just the reminder I need to be here and now and moving forward.
"Some blunders and absurdities, no doubt crept in. Forget them as soon as you can…"
There will always be blunders and absurdities. What a boring life I'd lead without them. Perfection has never been part of my aim, so why would I lament the blunders and absurdities? Aren't they integral to my story?
"… tomorrow is a new day; begin it well and serenely, with too high a spirit to be cumbered with your old nonsense."
Shedding the unhelpful worries of what was – I love it. And thinking of it as my "old nonsense" just makes me smile.
"This new day is too dear, with its hopes and invitations, to waste a moment on the yesterdays."
I'm not a worry-free person. I'm no Bobby McFerrin. But it seems to me that there are fruitful and unfruitful worries.
The unfruitful, like worrying about the blunders and the absurdities and the old nonsense, yields nothing and instead hinders what joy I might find today.
The fruitful worries focus on realizing the day's potential. Will I make the most of this day I have?
That doesn't mean it has to include a Triathlon or financial windfall or some hallmark of success.
Maybe it means creating a memory with my twelve-year-old or a word that brightens someone's day or the simple but beautiful act of just letting down my guard.
I don't ever want to take those small moments for granted. In the greater context of life, they might seem like grains of sand compared to the beach. But remember, there's no beach without the grains of sand.
Can I even call an apprehension about realizing the day's potential a worry? Perhaps for a second, because it's only there for a breath before it turns into motivation to soak in this day with all its promise ("its hopes and invitations").
That worry = motivation = drive = some sort of positive yield. I'll take it and I'll be grateful for it. Blunders included.