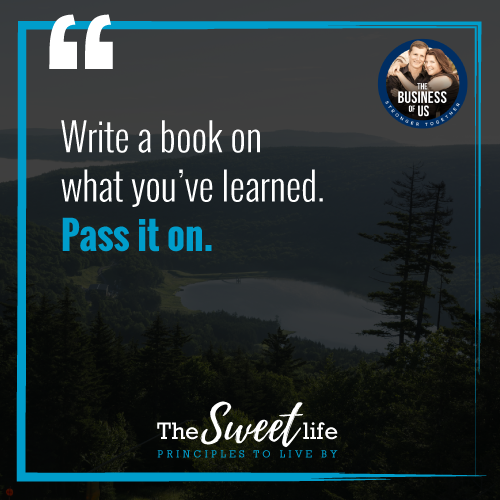 I write and exercise every morning. I haven't missed a day in over 6 months, even when I feel sick, tired, or injured.
It's a daily practice for my mind and body that I committed to, and I have no intention of stopping this routine anytime soon.
I don't always write a lot, but when I do, it's often about lessons I've learned, or I'm in the process of learning.
Frequently when I'm writing, I think to myself, "I hope my girls read this someday."
Some things I know they could read today and understand the meaning, but I also know, at least right now, they wouldn't want to read it, and I fear it would be more like a choir to them.
I'd rather have my recorded stories and thoughts in a book ready for them when they feel it might help them.
Consequently, I've been thinking a lot about collecting many of daily writings and putting them a book. The writings I share often apply to anyone, but when I write them, I am most often thinking about my daughters. As in, things I've figured out about life so far that I want to share and pass on to them, to guide them on their own journey.
In the past, when I've had a friend or family member graduate from high school, my favorite gift to give them was a book that greatly impacted my life. I grab it right from my shelf of books I've loved with hopes they will get as much from the book as I did.
I know most high school graduates are not that excited about getting a used book, so I often throw in some cash in there too. I don't know if they will ever read it, and that is ok, it was just my attempt at gifting them some knowledge that I believe could help in some way on their journey.
But wouldn't it be awesome to hand to your own child at that transitional period in their life, a book of your best wisdom wrapped in stories for them to read when they go off on their own. Maybe that book is held on to and gets passed on to their kids. How cool would that be?
Amanda has already done something similar; she purchased a new journal when each of our girls were born, and she has written letters to them inside their journal since they were babies. These thick journals are nearly full. She doesn't know when she will give it to them, but what amazing gift that will be.
So I've decided to no longer "think" about creating a book for my daughters. I will do it, and I will hand it to them when I believe the timing is right.
As I write this statement, I am sitting in my chair, looking at photos of my kids hanging on the wall spanning the last decade. It reminds me of how incredibly grateful I have been to have them in my life. To watch them grow and become strong young ladies. It's a gift, a gift I don't intend to waste.