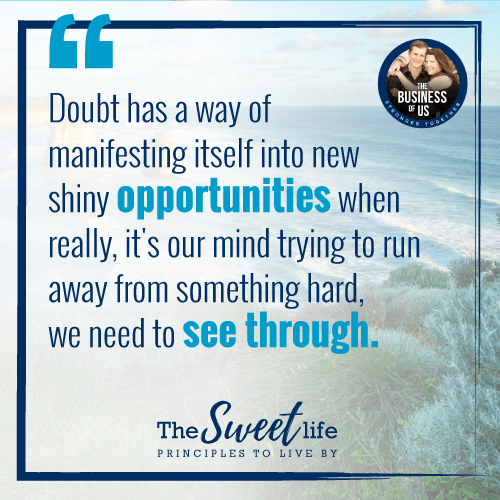 When you don't have predictable income as an entrepreneur, doubt will f*ck with your mind.
Doubt clouds our better judgment. Doubt is often the cause of many entrepreneurs who continue to chase after new and different shiny objects.
Some entrepreneurs get bored quickly and therefore move on to new projects too soon, while many others simply add projects to their plate because of concerns and doubt that their current projects will produce enough income to keep going.
Doubt makes you second guess decisions that you know to be right because you researched the hell out of it.
So why doubt it now? Lack of predictable income in your life is often the cause. When you have predictable income if allows more time and patience to see worthy projects through.
I've lived without predictable income for nearly 20 years. I've had a lot of success in that time, but I'm confident that much of my success was stunted because I spread myself too thin on too many initiatives because I was continually uncertain which efforts would pay next, so I kept throwing things up on the wall hoping something would stick.
Had I picked the best initiatives and worked them with more focus and attention, I'm confident they would have produced far greater results then what we experienced.
I don't have regrets about my past decisions, I am merely reflecting on how doubt played a role in many of those decisions.
As I contemplate my current and future decisions, I must keep these lessons top of mind so that I take deliberate action to not repeat past mistakes, (at least not repeat them, as often).
Doubt has a way of manifesting itself into new shiny opportunities when really, it's our mind trying to run away from something hard, we need to see through.
Doubt may always be a part of our life, but knowing how it plays a role in our decisions is the first step in minimizing the negative impact it has on us.