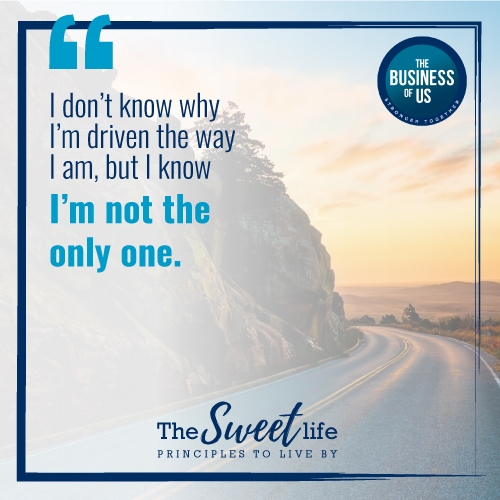 Driven To Be Something More
My friend Ryan Fletcher recently wrote something that spoke to me (I've paired this down from the original).
"At first, I hated the pressure and burden of feeling called to become something great. It's a torture chamber. You know your potential. Yet, you have no idea how to get there. This leads to despair and misery, and always feeling like you're letting yourself down. 
It's not always fun to be the 5% that feels called to become great. But if I accept it, I will build a life of vast meaning. Quitting isn't an option. I am a slave to my purpose. My job to achieve that purpose is mission-critical. If I quit, my Lesser Self wins. And millions of the brightest lights may never get lit."
Many of us are driven. But few are driven to be great. 
I don't know why I feel driven to be great. But I do. 
It drives me to wake up early to stare at a blank page, and then write letters like this one.
I could be doing a million other things that could result in making more money today, but here I am reading, writing, and trying to learn ways to improve myself and help others do the same.
Sometimes I think, "Why Me?" 
Why can't I just be satisfied with sleeping in today? 
Ryan described it well when he said, it's a torture chamber when you know your potential but have no idea how to get there and feeling like you're letting yourself down.
Sleeping-in feels like I'm letting myself down, it feels like torture. 
In contrast, writing letters like this gives me a warm feeling inside like I'm on the right path. 
I'm not a religious person, yet I know my moral compass always points north. 
I'm not a spiritual person, but I do feel like I'm being guided.
I don't know why I'm driven the way I am. But it's there, speaking to me every day. 
It's clear to me that finding a way to answer that nagging inner drive is how we find our true potential. It's also clear to me that this isn't a temporary mission, but rather a lifelong mission that takes daily endurance. 
I don't know why I'm driven the way I am, but I know I'm not the only one.
#TheBusinessofUs #Driven
#TheSweetLife