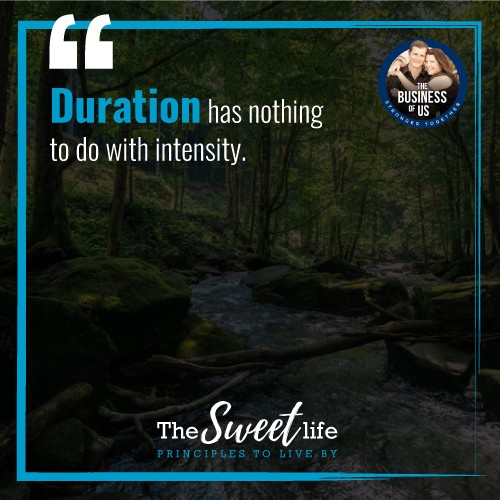 Duration has Nothing to Do with Intensity
I used to think working for 15 hours a day meant I was applying more intensity to my work and therefore expected better results from my efforts.
But when I really examined where and how I spent each hour, I realized there was a lot of unproductive time mixed in. And when I say a lot, I mean it shocked me, once I drilled down each 15-minute block of my day.
My years of experience, my months of exercise, my weeks of practice, my hours of study, my minutes of writing.
All of these things can be done with different levels of intensity and focus.
I've discovered I can gain more experience in a shorter period of time by applying focused intensity to my business pursuits.
You can accomplish this through intelligent hustle. Being really busy doesn't count. Working 15 hours being really busy may make you feel like you are accomplishing a lot until you log your focused productive vs. unfocused time.
My busyness came more from my lack of organization and systems for my business. This issue took me a long time to fully own and take actionable steps every day to curb my tendency to get distracted and disorganized with my productive time.
Operating more efficiently is a form of intensity you can apply to your business. Another form of intensity is being purposeful to learn and then apply what you learn. This allows you to experience higher levels of trial and error compared to your counterparts, so you learn and grow on a faster level.
It's easier to picture higher intensity in terms of exercise because you are either going hard or being conservative. The advantage of going hard is that you can get the same or even better results in less time by ramping up your intensity. Intelligent hustle also applies here as well, because you don't want to go so hard that you cause an injury that takes you out of the game, and you want to make sure you are doing workouts that will make you stronger and less injury-prone.
I can casually practice Spanish lessons every day for a month in between responding to Facebook posts and having the TV on, or I can immerse myself for 30 minutes each day with no distractions and see 10x the results in the same period of time.
Time investment does not run parallel to improvement.
More practice will lead to improvement, but results can be amplified through intensity of practice.
You want to get more accomplished in less time?
Apply more intensity to your pursuits.
​