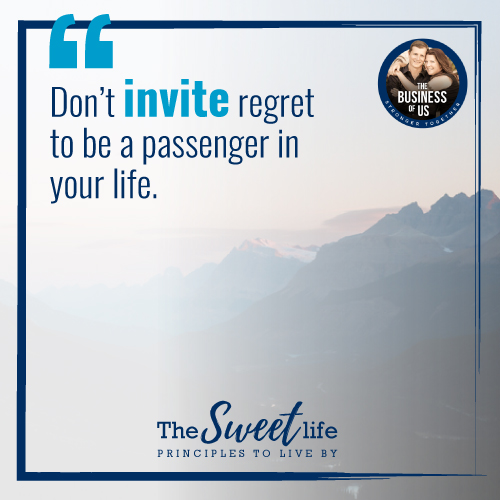 After the last real estate crash, I had to rebuild financially. But slowly, I built my real estate business up to a level where it was thriving. I could see the next 10 years. I was in a good spot. I could have stayed on that road, hit cruise control, and had a pretty good ride. But… something kept nagging at me. Like I was destined for something else, something bigger.
My friend Ryan Fletcher, who has a similar story, described his like this…
"…Instead of staying on cruise control, I saw a dirt road that looked exciting, that wound back and forth up the side of a mountain. Hairpin turns? Yeah, those look treacherous. A pitch so steep that a goat can barely traverse it? Well, who doesn't love a challenge? The problem was, I was driving a sports car, not exactly built for off-road adventure racing. Who trades in a Lamborghini for a desert Baja truck? A person, I guess, who commits to living life regret-free. The Path of Least Resistance vs. The Path of Great Resistance. Over the next 3 years, I'd sink everything I had into the build of that Baja 1000 capable vehicle. This led many to question me. To doubt me. To not understand me. In each occurrence, I don't care. Those who don't get it, don't have the same drum beating inside of them as I have beating inside of me. My drum thumps. It's a heartbeat in my throat. It's energy in my brain. It's the conviction in my beliefs."
Ryan's comments really resonated with me.
It's easy to say that taking that dirt road is stupid when you are already cruising down the comfortable highway. But the danger in not taking that exciting dirt road is regret.
"When something inside you is calling you to be more, it's time to get uncomfortable."
Like Ryan, there is a drum that is beating inside of me to become more. If I ignore it, the drum just gets louder until I can't hear anything else.
The most frustrating place is often when you have drum beating inside of you, but you can't find your exciting dirt road.
I've been there many times.
So much so that when an exciting dirt road came along that spoke to me, I turned off cruise control, pulled off the highway, and made a left on to that exciting and treacherous dirt road.
It didn't take long for me to see this was the road I've been waiting for, but if I had not stopped to check it out, I might have never found it. Had I not taken a chance on seeing where it might lead, I may have invited regret to be a passenger on my ride.
"Don't invite regret to be a passenger in your life."
If you have a drum beating inside of you, keep an eye out for your exciting dirt road; it might just be coming on up on your left.
​