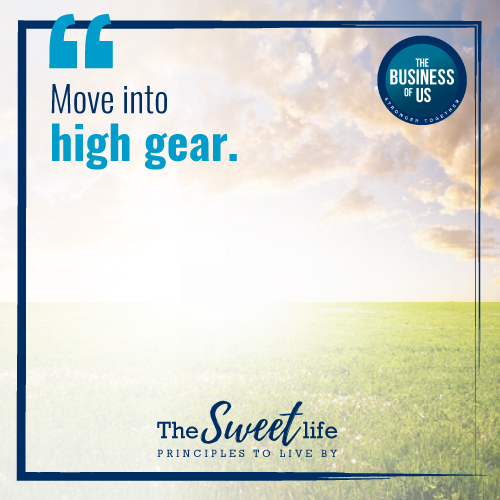 ​In terms of my personal health and fitness, I've always been a two-steps-forward/one-step-back kind of girl. I move slow and steady, but generally in the right direction.
That is… until now.
This year has been a game-changer. I am in high gear.
We started by training for and completing a half-marathon, then began the GRIT challenges we've been posting about. What we're doing now takes less time, but is more effective, than any other diet or exercise I've tried.
I feel like I've been able to take longer strides on those two steps forward and shorten the single steps back into baby steps.
The workouts are hard. No joke, but often as quick as 15 minutes.
It all comes down to a body in motion versus a body at rest.
One reason why these challenges are so effective is that they demand more than you think you are capable of. Putting forth more effort than you thought you could builds momentum to keep that effort going.
I'm really appreciative (though it would have been hard to get me to admit it along the way) that there was no option to take a day off. If you fail to do your workout and post in the group, you are booted entirely and have to wait for next month's 28-day challenge to begin again. So you have to fully commit. There are no workout-cheat-days. That keeps the momentum going.
After completing my second GRIT challenge, we were asked to reflect on our results. Here are some of mine.
Mind: I feel more present, relaxed, calm, confident, at peace, capable, and optimistic. I enjoy every day. I'm not afraid of asking myself hard questions and digging deep to find the answers. I've always been a writer, but hadn't written on the topics that we touch upon here. It's tapped into gratitude. I feel constant gratitude.
Body: We hauled our hand-me-down fake Christmas tree up from the shed. It comes in three sections that stack together. In the past Mike has carried the two bigger sections of it and I've just carried the top part because the thing is so darn heavy. But on Friday I picked up the middle section of it and wondered why I'd ever thought it was heavy. Then I realized that it's exactly the same weight as it was last year; I just happen to be a heck of a lot stronger now. And as far as vanity is concerned, I've lost two inches from my thighs, two from my hips, and one inch at my stomach.
Business: Physical strength and getting a workout done early in the morning effects nearly everything that follows throughout the day. I'm more confident and capable, which bleeds into every aspect of my work. I've unearthed a manuscript that I've been sitting on for two years and I have at least two releases planned for 2020. I feel like I've made huge strides in moving forward.
Mike has started posting our workout videos on Facebook. Previously we've only posted them in the private GRIT group. The people I've met through this have inspired me and truly changed me for the better. Maybe we can pass that light along to someone else.