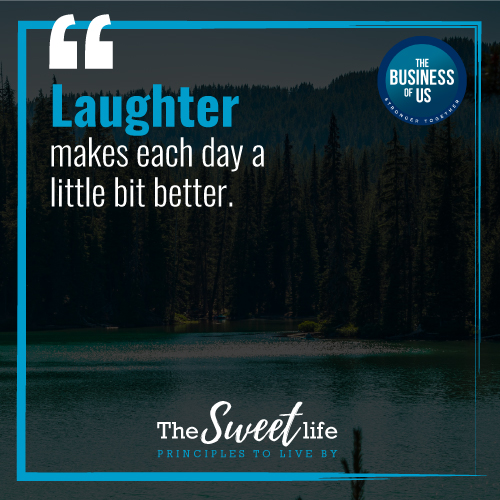 Humor Makes It Less Awful
"Push-ups, sit-ups, and a strict diet of raisins. That's my plan." – Jack Black
Humor is necessary. It breeds camaraderie, and camaraderie is what keeps us going when things get really poopy. If you've ever tried to get in shape, then you probably feel some connection to the Jack Black quote above.
If we can't laugh about what's REALLY awful, then we're left with nothing but the awfulness. Sounds… awful.
My mother, sister, and I are all drawn to morbid and terrible things. We're not happy that the morbid and terrible things have happened, but since pretending they don't exist doesn't do any good, we indulge in a bit of fascination with them.
I mean, you can't make them un-happen.
"Don't forget to lock your door," my mother will remind me. "You don't want the SK coming in."
SK = Serial Killer. Of course.
This is my mom's way of being funny, and also an honest and heartfelt reminder to keep out serial killers. So, you know, it's a win-win.
"I went running this morning along the river," I'll tell my sister. "I always look along the banks in case there's a body."
"Did you find one?" she'll ask.
"No."
"Oh," she says, with just a hint of disappointment.
It's not that I want there to be a body. Of course not. It's just… if there is a body, I wouldn't mind having a role in the investigation.
My husband does not share this inclination for morbid and terrible things. That's okay. Our humor operates on a different level, usually centered on making fun of ourselves.
We do extremely difficult workouts every morning now.
(Part of the GRIT challenge I've written about before. Yes, I got sucked into doing it again.)
Each workout has a "finisher" – a super-sucky add-on at the end of the workout, just to make sure you really push yourself to the verge of vomiting.
Today's finisher involved lying on your back, sticking your legs straight up in the air, and lowering them down to one side and then the other, over and over, at a brisk pace. Each time Mike lowered his legs to the left, his body would somehow move a few inches to the left, though this did NOT occur every time he lowered his legs to the right.
"I'M TRAVELING!" he yelled with wide eyes, halfway through the workout, while his legs still furiously swung in an arc, back and forth. "I'M TRAVELING AND I DON'T KNOW WHY I'M TRAVELING."
Sure enough, Mike's body was somehow inching along the carpet, despite only his back touching the floor.
I started to laugh and while laughter might be the best medicine and great in most situations, it is not beneficial when one is exercising. The muscles buckle, the joints fold.
Doing an intense workout while trying not to laugh is a true shit-show. Have you ever experienced that? Our form for the rest of the workout was not up to par.
But the laughter took away the awfulness. Because of the ability to laugh, to find humor in discomfort, in downright pain, and sometimes even in the morbid and terrible happenings of the world, we can make each day a little bit better.
"If at first you don't succeed, then skydiving definitely isn't for you." – Steven Wright