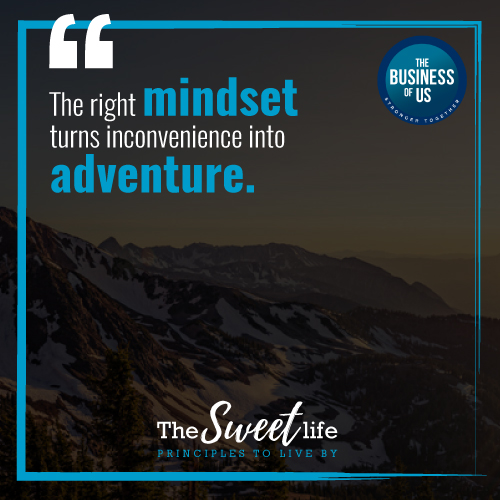 Inconvenience or Adventure?
I learned a magic trick. It goes like this: with a little shift in my perspective, I can turn an inconvenience into adventure.
I used to be a complainer.
Flight canceled? Insomnia? Difficult people? Crappy job? Illness?
I could stomp my feet and pout and mope like it was an Olympic sport.
But it turns that complaining and temper tantrums do absolutely nothing to help when an inconvenience arises.
(It's also annoying and unflattering, and I don't want to be that.)
Part of this shift in perspective, unless you're one of those people magically born with grace in every situation (I am not one of those people), is just part of growing up and learning that adapting will serve you well, and also learning to recognize when it's needed.
Traveling, parenting, being in business for oneself, all of these are areas that come with a heck of a lot of inconvenience. Everything is harder than expected and takes longer than expected.
But all of it is much more enjoyable when approached with the mindset of, "Okay, let's figure this out."
I'm grateful to have a partner by my side in all of this too, because then it becomes, "Okay, let's figure this out together." (I know that's kind of sappy, but it's true.)
When something doesn't go as planned, I have a choice in how I react. I can go down the road of blame, anger, and frustration, but that's not very much fun. Instead, I want to remain conscious of the fact that there's another path. Assessing the situation, taking ownership of what I can control and letting go of what I cannot, and moving forward with a positive attitude.
It's not an inconvenience; it's an adventure. Let's figure it out.