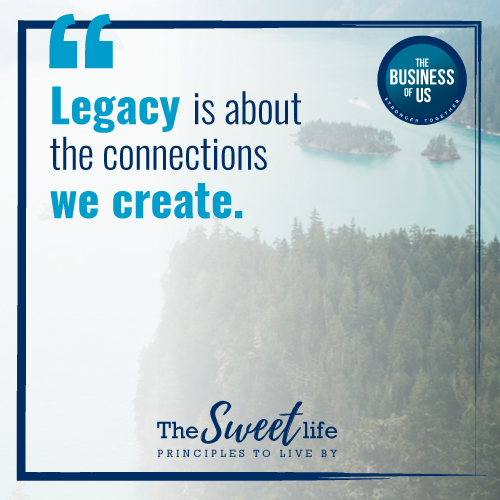 For the past twelve years, I've been working on a journal filled with entries from me to Emilia. I've been doing the same in a second journal for the past decade with entries to Ivy.
For me, this is a form of legacy. It takes very little of my time (I average about one entry in each, per month) to create something in which they may find great value.
Could you ever put a price on a book filled with letters that one of your parents wrote, specifically to you, for the first 15 years of your life?
I made a Facebook Live video about these journals in The Sweet Life group, because I wanted to share not only what they are, but also show what they look like and the various treasures I hide in the pages (a letter to Santa, a note from a teacher, a drawing).
Legacy is one of the things that Mike and I make an effort to talk about – to consider. Legacy is more than making sure someone doesn't go into debt handling your affairs after you die. It's about the connections we create and difference we make in the lives of those around us.
I'm not sure when I'll give the girls their journals. When they graduate high school? When they're twenty-five? At what age or stage is a person able to appreciate a parent's chronicle?
They'll read stories they know well and stories they've never heard before. They'll read of their developing personalities, and struggles I've gone through along the way. They'll be reminded of adventures we've had which otherwise might have remained forgotten.
As their mother, we'll likely go through many times when they don't like me very much. That's okay. Regardless, they'll each have a book of my honest thoughts in my own handwriting – about us, our relationship, and our lives.