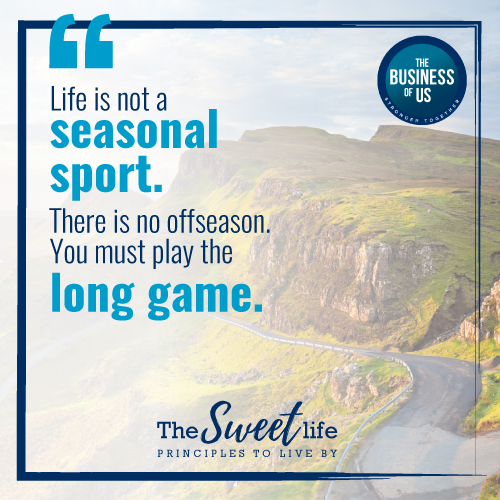 Life is Not a Seasonal Sport
I played almost every sport I could in my youth. Growing up on an Island in Alaska, if you played sports, that meant you would either take a multi-day ferry ride or an airplane when it came time to play another team. Playing sports was our primary way off the island.
My challenge was that I was always far from the best player on the team. But I did everything I could to make it on the traveling team. That meant showing up with my best effort all the time.
It bothered me that I wasn't as good as my friends, so I aimed to make up my lack of talent with hustle.
But with each passing grade level, it becomes harder and harder to make a sports team. Eventually, coaches are forced to cut players, and if you want the starting varsity spot, you have to prove you are the best player available to take that spot.
My motto in sports was, "You can't outwork me."
With wind sprint drills, the faster runners would beat me easily, but the longer the coach pushed us, I eventually would lead in sprints because I maintained my speed while they slowed down.
I would add extra workouts in before school, I'd spend more time in the gym hitting the weights, anything to help get an extra edge.
Even with all that effort, I was still far from the best player, but throughout my time playing sports, I knew my coaches always appreciated having me on the team because I set a great example for the other players.
At the end of the season, I wouldn't be the one recognized for having the best stats, or the most wins, but I was regularly honored with some sort of "Coach Appreciation Award" for my efforts.
At the time, I didn't think much of these. Another coach's award? Great. It felt like a consolation prize. I would have much preferred to have the first place trophies.
But now I understand. And I'm grateful. The coaches knew that effort matters, and the fact that they made a special point to recognize and honor me for my efforts humbles me to think about now.
You get to choose the effort you put out every day.
When Oakland Raiders head coach Jon Gruden tutored young quarterbacks, his parting advice was: "Go lead the league in effort. That's the one thing that requires no talent at all. It's simply a decision you make."
"In life, effort matters more than talent, because effort breeds talent."
In school sports we can get cut, or even if we make the team we eventually run out of time when the season ends.
But with life skills like education, fitness, speaking, parenting, relationships, business, and storytelling, we have an endless arena in which to improve.
And if we commit, if we show up with our best effort every day, our talent improves in 1% increments.
1% improvements can feel like you are not moving forward. Which leads to frustration and often kills effort.
"Life is not a seasonal sport. There is no offseason. You must play the long game."
We have plenty of time to win the coach's award in effort and allow the 1% improvements to compound. But don't take "plenty of time" for granted either. As Gary Vaynerchuck says, be urgent in the micro, and patient in the macro.
Sustained effort is the hardest life-sport there is. But it can yield the biggest wins.
You just have to "go lead the league in effort."