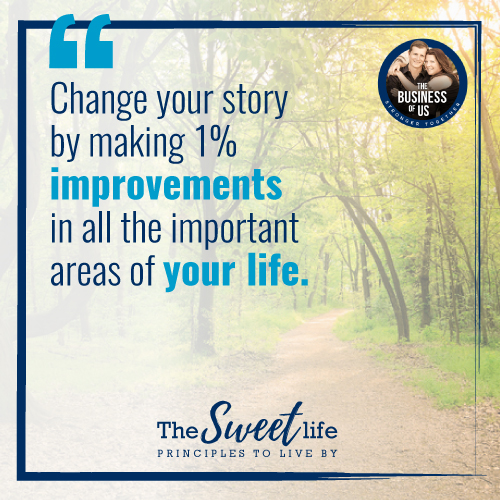 Living a Better Story is Easier than Most Realize
"And once you live a good story, you get a taste for a kind of meaning in life, and you can't go back to being normal; you can't go back to meaningless scenes stitched together by the forgettable thread of wasted time."
― Donald Miller, A Million Miles in a Thousand Years
I love this quote from Donald Miller's book. When I read it, I couldn't help to nod my head in agreement.
When you are not living a good story, you spend a lot of time wondering and hoping you find your purpose, your passion, something meaningful beyond your job, your circumstances. It's like you feel deep inside you were destined for something more or something bigger, but you just can't figure out which door to open and which door to shut.
My ah-ha moment about this didn't come after I made a big shift or change in my life. It came after months of making 1% changes in areas of my life I simply wanted to improve. My business, my relationships, my health, and in my daily impact on others.
I committed to small improvements, and after a period of time, I realized I was living a better story.
I became emboldened after having so many small wins that I started aiming higher and thinking bigger.
The 1% improvements have compounded. Doors that were once hidden and out of sight are now in plain view, and it's easier to see doors I need to shut.
As Donald Miller points out, once you live a better story, you get a taste of meaning in your life, and you can't imagine going back to a less meaningful time.
If you're struggling to find meaning or direction in life, I suggest that you don't need to make a massive turn or change to find it. You simply start by making 1% improvements in all the important areas of your life.
For example, if your health is at the top of your list of areas to improve, I don't suggest fasting for as long as you can or starting the latest popular diet, but rather pick one bad thing you can cut out of your diet. Once you get a series of small wins, then add another improvement, get wins, then add another improvement, and so on.
If you decide you want to read more but haven't read a book in months, I strongly advise not setting a goal to suddenly read for 1 hour every day. Because you are likely to yo-yo on that plan and have more fails than wins.
But if you set an initial reading goal for 10 or 15 minutes, it's much easier to stack up wins. And it should go without saying that wins feel awesome, and fails feel like…fails.
Tony Robbins frequently states, "Most people overestimate what they can do in a year and underestimate what they can achieve in a decade."
What he is describing is a real-life Hero's Journey. Not a Hollywood version, but how each one of us can live a hero's journey by living and pursuing a good life story over decades.
Our hero's journey is going to be decades-long and realized by fighting for daily wins.
Living a better story is easier than most realize; it's simply a matter of 1% daily improvements.
​