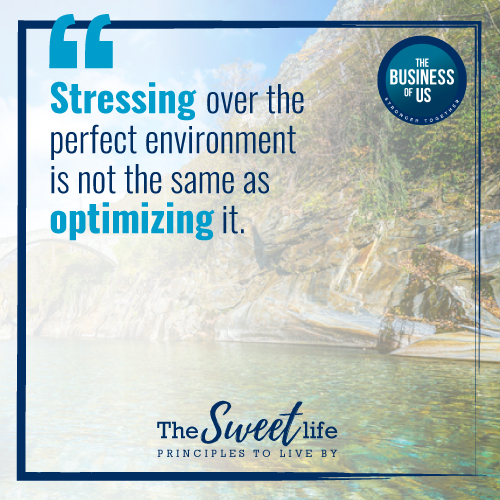 ​My environment has a huge impact on my productivity and the quality of the work I do. Because of this there have been times when I've tried to create the perfect office. I wanted to optimize my environment.
You have to have the right desk. And lighting. What about inspirational posters? Collectors' editions of literary works?
Good pens. A writing hat.
I'm not making that last one up. I once read a book that advised having a special hat that you wear when you write. So you know that when you put that hat on your head, it's time to get into a zone of hyper-creative and accelerated productivity.
Maybe you just need to make sure there's a pot of magic fairy writing dust on your desk. If you've read Stephen King's On Writing, then you probably know I'm talking about cocaine.
Is that what makes a dream office?
Hopefully you don't need me to tell you that the answer is no. It's up to you whether you want to go full Hunter S. Thompson as far as your drug consumption, but having an idealized dream office is not the equivalent of optimizing your environment.
It turns out that when it comes to optimizing your environment, an office has nothing to do with it.
Most people are surprised to learn that I do not have an office. I don't even have a desk. I do the majority of my work when sitting at my kitchen island (where I am now). It's a large island and I occupy one corner of it, only putting away my laptop and notebooks when we have company.
I am adaptable. I have written books at the kitchen island, but also in bed, on the couch, at Barnes & Noble, and in homes and hotels around the world.
I optimize my environment by knowing exactly what I need, while remaining adaptable. I know that stressing over the perfect environment is not optimizing it, but a form of procrastination. There is a difference between cleaning the house as a means of procrastination (sometime I do that, too) and creating the order I need to function at my best.
No matter where I am, there must be a sense of order around me. If it's chaos, I deal with that chaos and create the order I need.
My environment includes the people around me. I do not write during the summer when school is out, because I find myself surrounded by small humans who pepper me with questions and endless requests for snacks. If I do need concentrated time when my children are home, I ask my husband for help and he always obliges. Then I lock myself away into an ordered and optimized environment.
Mike and I have no problem working in the same room, unless he decides to crank up Journey and have a sing-a-long, which he is somehow able to do while working.
My optimized environment is silent, while his may include music ("Dooon't stop… Belieeeeevin'!"). Headphones come in handy.
Most hours of the day, however, we work just a few feet apart, each available as a resource to the other when needed.
("Mike, help! My computer is being an asshole.")
("Amanda, how do you spell 'consciousness'?")
In these unexpected ways, without a desk and not even a teeny bit of cocaine, I optimize my environment.