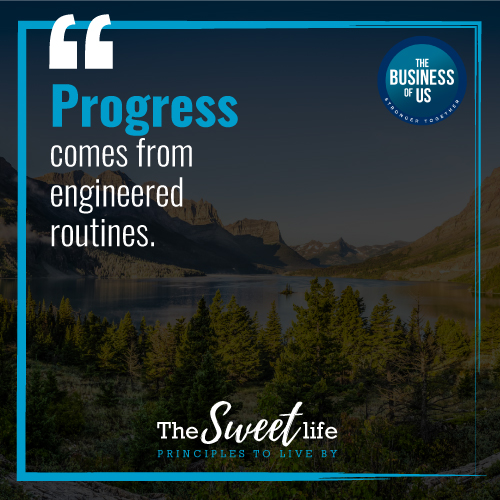 On the Importance of Routine
My adherence to routine is amusing to some. "Don't you want to mix it up?" they'll ask. "What about spontaneity?"
It's true that by nature I'm a born planner. But I also purposely engineer routine in certain areas because becoming who you want to be demands routine.
I cannot learn another language if I practice every now and then.
I do not build strength by exercising two days per month.
Meditation will not strengthen my mind without consistency to go along with it.
Reading a page of a book once a week is going to leave me terribly confused.
And of course, writing a book does not work if my writing happens only when I "spontaneously" decide to put my butt in the chair.
My friends and colleagues understand that when we meet for coffee or lunch, that commitment has to take place a few weeks out on the calendar. I'm not available for last minute get-togethers. Because only with a solid schedule can I continue building myself and my work.
Friends understand and respect your routines. Worthy colleagues operate within routines of their own. It's up to us to keep the technological distractions at bay.
When we travel, we do so with a different set of routines. I know, routine couched inside of an adventure is weird, but it works. We maintain the routines that keep us productive and efficient, but we do so in a framework that adapts to life on the road (or in a camper van… or on board a ferry boat).
"Creature of Habit" sounds kind of creepy. Because who wants to be called a creature? And "habit" makes me think of all the bad ones. And nuns.
I'm advocating for that phrase to be changed to Queen of Routine. That sounds so much better.
Do you implement routines? In what areas do they best work for you?