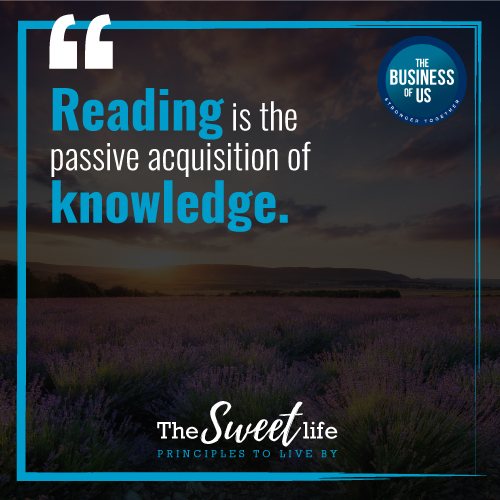 One of the most important ways that writers can learn and improve is by reading. Every now and then I meet a writer who says they don't have time to read. Bullshit, time to prioritize. A writer who doesn't read is not doing her job. It's also folly to feel guilty about time spent reading. It's okay if part of your job is enjoyable.
Reading is the passive acquisition of knowledge – about structure, language, plot, motivation. When you read something terrible, you take note of why it's terrible and learn what not to do. When you read something that sparkles, you figure out why and learn to make your own words more impactful.
There's knowledge to be gained everywhere, not strictly from nonfiction. Fiction teaches us about interpersonal relationships and the elements of a compelling story. You can drill it down further by genre: sci-fi teaches us to think beyond what we know to be possible; thrillers demonstrate the power of easing and increasing tension in intervals; romance reminds us that emotion has the power to override all logic and reason.
Every time you read, you improve your grasp of language, spelling, and grammar. If you actively want to improve in this area, subscribe to Grammar Girl or Daily Writing Tips. Learn the differences between bear/bare, your/you're, affect/effect, ie/eg. It takes a minute of your day and is a great way to get 1% daily gains to improve your writing over time.
There's popular advice out there about leveraging the people around you. About surrounding yourself with people who display the qualities you most admire.
There's Jim Rohn's quote: "You're the average of the five people you spend the most time with."
And you've probably heard: "Show me your friends and I'll show you your future."
Reading not only allows you to leverage the knowledge of others, but also gives you complete control in deciding what that knowledge will be, and the scope of it can extend far beyond the five people around you.
When it comes to harnessing knowledge and using it to improve ourselves, I believe that reading is the easiest, cheapest, most enjoyable, and most effective way to do it. It all comes back to that library card.