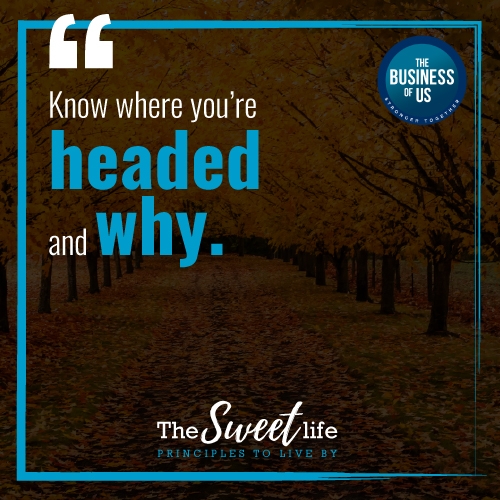 When Ambition Becomes Paralyzing
Ambition can be paralyzing. You reach a point of overwhelm. That constant drive (which is a really good thing) makes you feel like you might be driving off a cliff.
Mike and I battle this periodically. We have so many ideas and projects and dreams and visions.
And yes, we know how to prioritize. We know how to focus on the task at hand, whether that's getting 5,000 words written, or 10 miles behind us, or committing to the next overseas adventure.
We do a lot.
But there's so much more we want to do.
Sometimes the answer is slowing down. We'll go to breakfast and talk it through. Give each other honest feedback about where we see ourselves in the journey, what stops we want to make along the way, and what might need to be cut from the itinerary. (Mike wrote about the need for focus recently in "How Good Ideas Die")
Slowing down has its merits. Because there's no point in pushing through if you don't know where you're headed and why. That's when drive turns into spinning your wheels. Going through the motions just to check something off your to-do list, with no clear picture of why you're doing what you're doing.
But sometimes you know your why and you still feel overwhelm. You slow down and refocus, but then still find yourself in that state of paralysis.
"Mom, what are you doing?" Ivy asked me.
I'd been staring at a blank page of my notebook, paralyzed. "I don't know," I said truthfully. "I don't even know what I'm doing." Then, to change the subject, "What are you doing, Ivy?"
"I'm making a list of everything I'm going to do. Jasper and I are going to open a bakery and ice cream shop. We'll sell donuts and ice cream but also pesto pasta because I love pesto pasta. I also want to have a farm with lots of pugs and sloths. And I'm going to be an artist and in a band."
When kids talk about the million things they'll do, we nod and smile and pat them on the head.
But think of everything you've done?
I guarantee your list is long. I bet you'd forget two-dozen experiences that other people consider part of what makes you amazing.
I've worked on a farm and a fishing boat. As a clown and a waitress. I write books and travel the world and helped my daughters start a cotton candy business. I've worked in television and flown small planes and been beaten by birch branches wielded by an elderly Russian woman in a sauna outside of Moscow.
If overwhelm makes you feel like your life story has been put on hold, go talk to a child about what they'll do with their life. Make a list of the experiences that have already helped shape yours.
This is a reset to remind you that potential has no limits. After all, would you tell a child they can't do all the things they've rattled off? No. Because they can. All of that and more.
Knowing that, and all that has brought you to the present day of your life, would you put any limits on the potential for your future? I hope not.
Ambition is a gift. Even when it seems like too much. It can propel us forward even when we feel stuck or paralyzed.
Ambition puts us in difficult places, but that also means we're learning and striving. We want more for our lives and our loved ones than a miserable daily grind.
We have a choice. Stay paralyzed or embrace possibilities like a ten-year-old. Reset when you need to, but then put your ambitions in order and get to work.