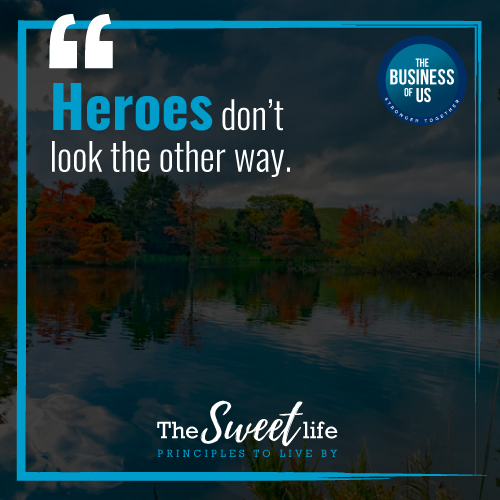 Who Are the Heroes in the Room?
Recently we held our quarterly ImpactClub event. We have 230 members (who need not be present to participate). Each donates $100. We hear from 3 charities for 5 minutes each. Then the members at the event vote and the winning charity takes home the pot. 230 members x $100 = $23,000. Yes, it's super cool.
At these events, Mike and I get lots of compliments. We hear about how amazing and wonderful we are and how the work we do is so important. I'm not going to lie, compliments feel great. Being recognized for your efforts is like the emotional equivalent of melted butter. So good.
One of the past winners of ImpactClub was giving me these compliments. And suddenly I felt like I was in the Upside Down.
"Wait a second," I said. "YOU'RE the one doing the amazing work. All we do is throw a party!"
Think about that. Mike and I throw a big party and get lots of praise for raising money for local charities. But ImpactClub is much bigger than us; it only works if we have members (thank you, members!).
But we're not the ones in the trenches. We go home and start planning the next live event.
The heroes in all of this are the ones brave enough to get on stage and tell their stories.
And the day after the event? While Mike and I are discussing what logistics worked and what could be better next time?
Those heroes are going back to their work feeding the hungry, healing the abused, and caring for the most vulnerable people in our society.
THAT is the truly amazing work. It's the work of compassion and determination and a commitment to do the right thing when it would be so much easier to look the other way.
If you want to learn more about these true heroes, I invite you to check out the organizations we heard from at our last event…
Hope House https://ahome2come2.com/
Family Advocates https://www.familyadvocates.org/
The Idaho Foodbank https://idahofoodbank.org/
See more at http://ImpactClubBoise.com