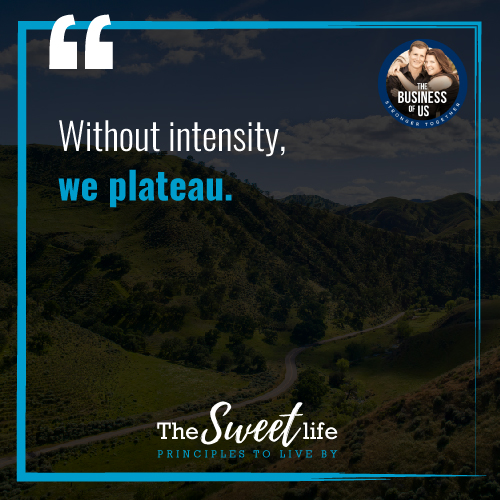 Will Smith once said in an interview, "The only thing that is distinctly different about me is I am not afraid to die on a treadmill. I will not be outworked. Period. You might have more talent than me. You might be smarter than me. You might be sexier than me. You might be all of those things. You got it on me in nine categories, but if we get on the treadmill, right, there's two things. You're getting off first, or I am gonna die. It's really that simple."
I laughed a little when I read this because I've nearly killed myself on a treadmill before trying to prove to myself what I was capable of. I wasn't competing against anyone other than my own mind.
I identify a lot with this statement because I know that I'm rarely the smartest person in the room, nor the most talented, most capable, but, I know I can push myself well beyond what others are willing to do.
I can push myself past exhaustion, I can dig deeper, I can go places that others won't dare. Not all the time, nor in all parts of my life, but this Will Smith quote is a reminder of how we can always be the hardest working person in a room. It's a choice. It's a daily decision. A commitment to ourselves.
Every day for the last 7 months, I've done 100 burpees as fast as I can. When I started doing burpees, my time to complete them was pretty average, just under 10 mins. This is my usual starting point in most things I engage in, I have enough tools and ability to have a decent average.
But, I stuck with it, putting my full intensity into those burpees, and within 6 weeks, I cut my best time down to 6 mins. Now I was above average.
Over the next 5 months, I reached the 5-minute mark a few times, and every time I did, I had to push myself to a point where I felt I was going to die. I'm not joking. I would push myself to near blackout, and it would cause me to have this heavy, painful cough all day long, and I would feel off and out of it for hours later.
I was proud of every time I succeeded drop my time below 5 mins because I knew few people could do that.
But here's the thing. I kept at it. Putting out my best effort each day, no matter if was a good time or an average time, it was my best effort. And in the last week, as I finished out 200+ days of consistent high-intensity practice, I broke the 4 min mark (three times).
It's proof to me that I have the ability to become world-class at something, even if I start out at just being average. It's taken me 7 months of daily periods of hell, but I've done it. I didn't have this as a goal. My goal was simply to give it my all each morning. But 200+ days in a row of high-intensity practice has changed everything.
Will Smith is world-class in his profession because he consistently was willing to push himself harder than his counterparts.
Intensity applied with consistent practice = Results.
Without intensity, we plateau.
This recent achievement with my fitness has got me wondering what other parts of my life I can apply this focused intensity. I consistently work hard to do well in all parts of my life, and because of that, I'm above average at many things. But…
What do I want to be world-class at?
It's a good question, maybe even the best question we can ask ourselves.
​