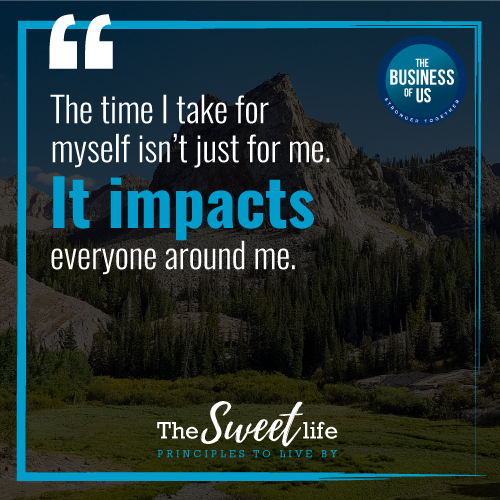 I'm a big fan of daily meditation (I use Headspace). I think it's a means of fostering mental health and as important as diet and exercise. The time I take for myself isn't just for me. It impacts everyone around me.
One of my favorite visualizations is about Blue Sky.
Picture the Blue Sky, which represents your mind. It has a calm and clarity that are always there. This is your mental baseline.
Sometimes clouds obscure the Blue Sky.
Clouds can be anything… from the cluttered thoughts of a busy life to something that's been bugging you that you haven't yet acknowledged to blatant grief.
These are things that might block us from seeing the Blue Sky. Temporarily.
What's important is to remember that even when the Blue Sky isn't visible, it's still there. That peaceful mind, that calm and clarity, is a constant, even when we can't see it.
The Blue Sky Mind is the underlying foundation of everything. Calm, clear blue sky. All of the other things are just passing through. Some clouds may stay longer than others. Sometimes we'll experience devastating storms. But behind it all, the Blue Sky remains.
I've been asking myself why this particular visualization appeals to me so much. It's more than just the idea of a Blue Sky itself, though I love all that it implies: open, endless, peaceful, constant.
Before I started meditation, before I began looking at my own behavior and emotions on a different level, I had an unconscious fear that whenever I was in a negative state (fill in the blank: anxious, angry, depressed), maybe there was a danger that the negative emotions could take over and become the norm. Maybe they WERE my norm.
But with the Blue Sky analogy, I can see that isn't true and not worth the worry. The Blue Sky mind is my baseline.
None of this is new or innovative. It's a different version of a million other techniques. This one, for whatever reason, appeals to me. It's my version of deep breaths or refocusing or taking a moment. Or employing a bit of perspective when the moment at hand seems overwhelming. Or remembering that "This too shall pass."
I'm always opening to learning new techniques. What works for you and why?
If you want to check out Headspace, here's an invite: https://www.headspace.com/invite/ED7cp