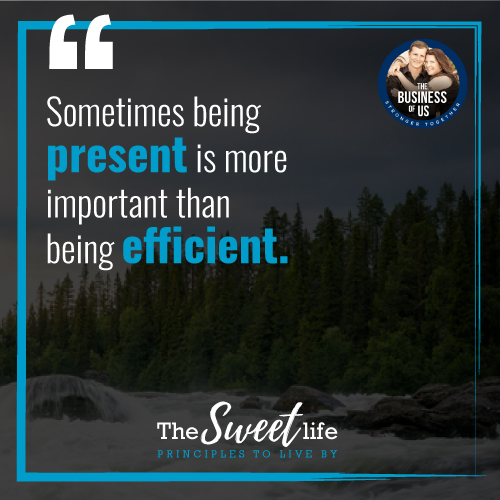 We all know the phrase, "Kill two birds with one stone."
(Also, don't throw stones at birds, that's really a jerk thing to do.)
But in general, efficiency is a good thing and we can all look for ways to accomplish multiple goals with one action in various aspects of our lives.
The rewards from certain tasks and activities are often naturally twofold. For example, when our family of four makes 100 bags of cotton candy together, that's definitely a bonding experience and can qualify as "family time," but it's also a lesson in business (and an exercise in willpower for our youngest – how not to eat all of your own product).
But I cringe when I see the "two birds, one stone" concept abused, when people shortchange the relationships in their lives because they're too focused on that other bird that they're also aiming for.
Grocery shopping isn't date night. (Unless you do some SERIOUS flirting in the produce section).
And buying something you really want, then pretending it's a gift for your spouse – lame.
As parents, we're guilty of this too. Taking your kid to the playground but then staring at your phone the whole time – you may tell yourself you're killing two birds with one stone, but I'd bet anything that your kid would rather you put the phone down and be present.
CJ, the GRIT trainer, encounters this a lot in the fitness world. Thinking that you've exercised because you walked to the post office, instead of truly working the body. While every step and movement is good, that's not getting two birds with one stone, no matter how we might try to convince ourselves.
I used to do this by reading a book while on the bike at the gym. I told myself it was two birds with one stone. Now I see that I would never make any real physical gains by continuing along with that routine. (But did I get the reading done? Check!)
I believe, for the most part, that it comes down to being honest with ourselves. If it's been in the back of my mind, bugging me, there's probably a reason.
On the other hand, I feel like the way I've structured my morning routines is a good example of this principle. Not only do I accomplish my workout and other things that are important to me, but I set myself up mentally and emotionally for a good day to come.
Efficiency is great… as long as we're honest about our actions and their impact. When all is said and done, the relationships in my life are more important than the number of items I cross off my to-do list.
​