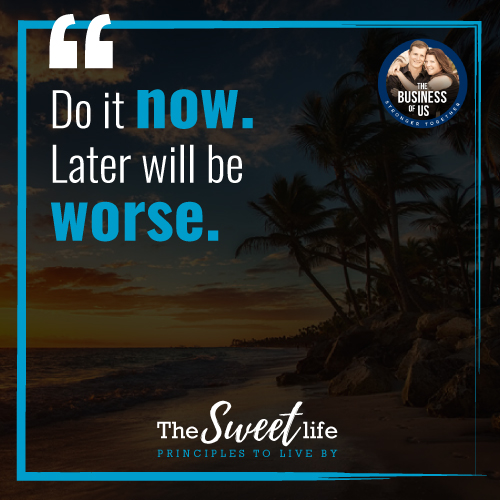 Do It Now, Later Will Be Worse
"Later" should be four letters. It's certainly a curse word. We should wince when hear it.
When I don't want to do something, there is always a seductive voice telling me all kinds of rational reasons why I should put it off until "later."
This voice says, "Your back is sore, if you go exercise now, you could make it worse."
The next day it says, "You're behind on your assignments, get caught up first. You can exercise later." 
Pretty soon "later" becomes next week, month, next year, a decade can go by in the blink of an eye.
I believe our brains are hardwired to seek comfort as part of our natural survival instinct. The problem is that there is no off switch. There is always some voice in our head telling us to slow down, to eat that food loaded with calories, to rest on the couch instead of going for a walk.
The pain you are feeling could be serious, so it's probably better to stop moving. Do you know what I'm talking about? When you know in the back of your head that it's not serious pain and that you're perfectly capable, but you let yourself entertain the possibility, because it provides a perfect excuse.
Each day is a battle to shut the voice up. I've listened to that voice too often in the past. I know what happens when I give in and push things off to "later."
The best way I've found to overcome that seductive voice in my head, convincing me to do something later, is to simply do the opposite. I try to answer back with, "I'm going to do it now; it will be worse if I wait until later."
My comfort-seeking brain does not like the sound of "worse." And then there is always the wonderful feeling of satisfaction of having accomplished what you set out to do.
Later = Worse. Do it now.
​